Kidane, I Saw My Brother Being Killed by ISIS
VASSENDEN (NRK): He lost contact with his big brother. Then he saw the video while his brother was being beheaded by the terrorist group ISIS.
www.nrk.no | May 10, 2015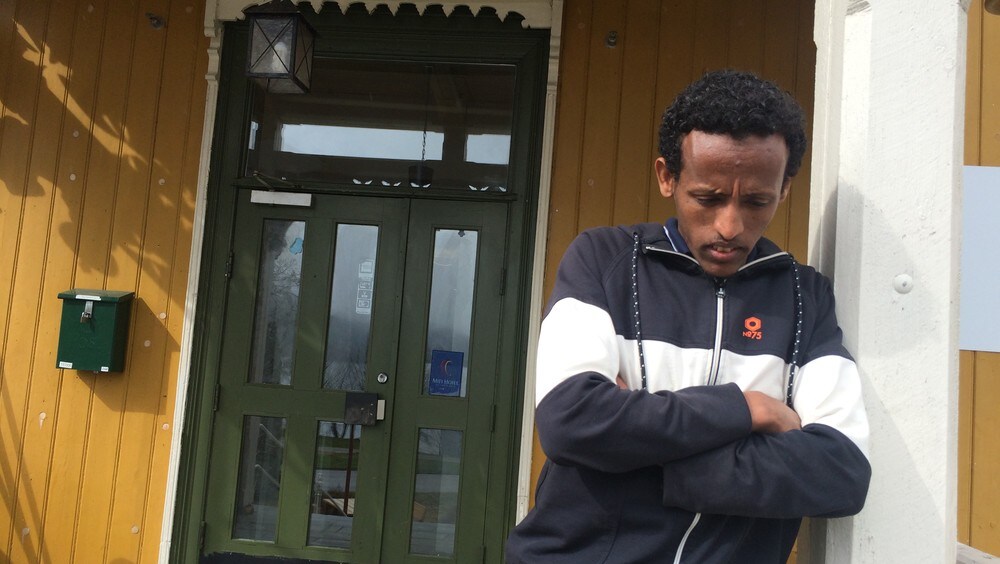 Yuhan Kidane has a hard time after he saw his brother being killed by IS. PHOTO: ELI EIKENÆS VENGEN / NRK
– He can not eat appropriately or sleep. I have to just exist, victory Yuhan Kidane. 27-year-old from Eritrea was looking for words.
He twists his hands against each other, looking down on the ground.
– If so, then I realized it was my brother I sat watching …. it was horrible.
He contacted Aftenposten.no to tell his story. And would set focus on the actions of ISIS.
– They are ruining people, families and kill innocently.
Yuhan says that he sent the video to a friend. A video of the terrorist group IS, in which their inhumane treatment of prisoners.
This video showed the execution of Ethiopian and Eritrean christians in Libya. Wearing orange prisoner suits with each of their executioners behind them, sitting the men on their knees.
They knew what will happen. And there, in the row of men sat Tesfay Kidane his big brother who always passa on little brother Yuhan.
– He has always talked a lot with him. Even after I came to Norway and Jølster. Then in February when I connected with him, he was very Concerned about what had happened to him, says Yuhan.
His life on the run



The family, which counts nine siblings from Eritrea. But fleed from the military regime there. In home country where they were combat soldiers.
But it was not a phenomenon life. The two brothers would run away. Brother Tesfay traveled to Israel. Yuhan also first to Sudan.
It was his big brother who helped him to go to Norway using smugglers.
– Tesfay wasn't lucky in Israel. They tightened their asylum policies, and he was given the offer to be sent out of the country to Rwanda.
But promises of better life was not there. Corruption and lack of management in the country led his big brother to run away again. He was coming to Europe. Left Rwanda to Egypt and then Libya.
– When he talked with him, he was ready to start a new life.
Terror group ISIS-torn Libya. And took Tesfay prisoner. But his youngerbrother in Jølster knew nothing.
– He have been so scared for him. But now I know what happened to him, he says quietly. His gaze in empty.
The video that terror group fanned online in mid-April shows 30 hostages. With music and a narrators kill dei catch all of which shall be Christians and who, ifølgje IS, refused to turn to Islam. The video has attracted reactions the world over, and world community has condemned it.
– I hope someone takes IS and yield the conviction they deserve. They spread only violence and misery and makes heinous actions. They must be stopped. Therefore I decided to tell about my brother. For he was an excellent man and that I loved.
– He has no longer much hope for the future. I know I am empty and scared and feared for the rest of my family. I can not afford to lose several, he says.
Software Translation from Norwegian