CECAFA U-23 Challenge Cup: Eritrea Ethiopia 3-3
July 19, 2021: It was raining goals on either side as hosts Ethiopia and Eritrea today settled for a 3-3 draw in the opening tie of the CECAFA U-23 Challenge Cup.
The Pool B game watched by over 15,000 spectators at the Bahir Dar Stadium kicked-off in style with each of the teams looking for an early lead.
Eritrean defender Nahom Tedesse Mekonen had his 5th minute shot miss the target before the home side reorganized and scored after 10 minutes. William Solomo Tesfae found the Eritrean defenders flat footed and made no mistake slotting the ball past the Eritrean goalkeeper Kibrom Solomon Haile.
But the Eritrean team started to show more dominance with skipper Robel Teklemichael in command in the heart of the midfield.
After missing three chances Eritrea's Ali Suleiman Ibrahim leveled matters when he beat Ethiopia's goalkeeper Tsiyon Merid Jimma with a low shot in the 38 minutes to make it 1-1. But Ethiopia made it 2-1 only three minutes later with a penalty converted by skipper Abubeker Nasir Ahmed.
But before the Ethiopian team could settle down after taking the lead Ali Suleiman Ibrahim was quick to score his second of the day when he chipped advancing goalkeeper Jimma.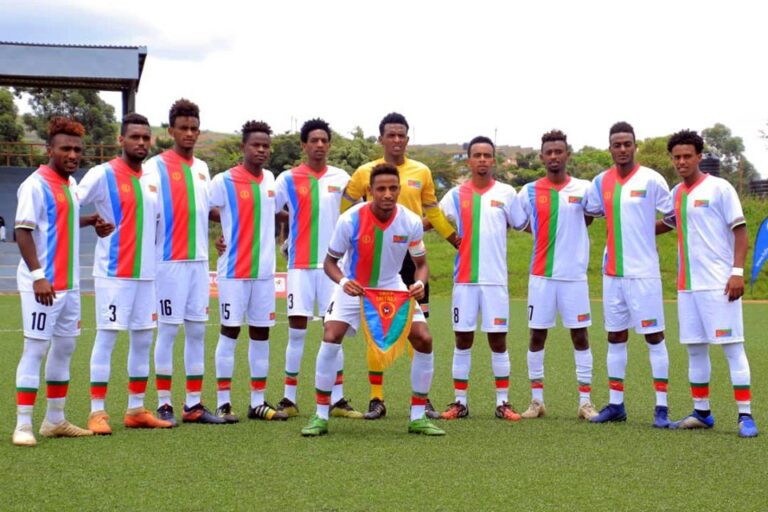 The two teams intensified their search for more goals after the interval, but with Ethiopia showing more dominance.
But after 56 minutes Eritrea's defence was caught flat footed again giving room for Abubeker Nasir Ahmed to restore Ethiopia's lead. Ahmed who showed a lot of hunger in-front of goal shot past the advancing goalkeeper to make it 3-2.
ARS Pres.@AgegnehuT in his address, he thanked Pm @AbiyAhmedAli & President Isaias Afwerki for making this possible.#Eritrea & #Ethiopia are brotherly nations and Eritrea and Amhara, will support each other in the future.#EritreaPrevails #EthiopiaPrevails #TPLFisaTerroristGroup pic.twitter.com/p4xRj3iKZq

— 9🄰🅁🄴1 🆀🆂 🇪🇷 (@qohaitostandard) July 26, 2021
After 72 minutes Eritrea were also handed a penalty. Ali Suleiman Ibrahim made sure he netted his third goal of the day when he sent the Ethiopian goalkeeper the wrong side to make it 3-3.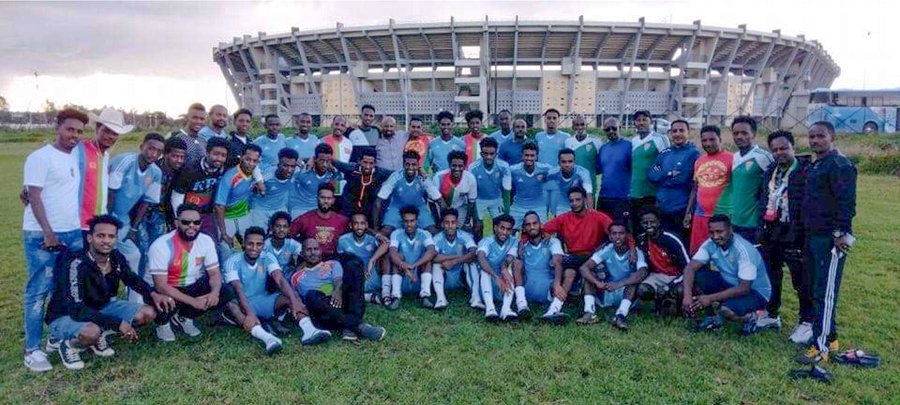 Ethiopia's head coach Wubetu Abate said his players had put up a good show in the opening match. "We missed several scoring chances, but we shall try to correct our mistakes ahead of our next game against Burundi," said Abate after the game.
Mekonen Zewde Abraha, the Eritrean coach said he was happy with the attitude his players showed to fight back and pick a draw. "We shall continue working hard to make sure we perform better in our next game," he added.
Pool B
P W D L GA GA AD Pts
Eritrea 1 0 1 0 3 3 0 1
Ethiopia 1 0 1 0 3 3 0 1
Burundi 0 0 0 0 0 0 0 0
اهداف لقاء منتخب ارتريا للشباب و نظيره الاثيوبي والذي انتهى بفوز #ارتريا بركلات الترجيح
وسوف يقابل المنتخب الاوغندي حامل اللقب في النسخة الماضي لتحديد المركز الخامس في البطولة #Eritrea #Uganda #Ethiopia #Cecafa pic.twitter.com/4xY62WAVL1

— ارتريا بالعربي (@eritrea_Arabic) July 26, 2021
Source: https://www.cecafaonline.com/cecafa-u-23-challenge-cup-eritrea-fight-back-to-hold-ethiopia-3-3/