Italian architecture in Eritrea: Fiat Tagliero
Software Translation from Italian
by Vito Zita  | October 28, 2020 
SIENA. The streamlined and dynamic shape of this former Fiat service station is one of the most extraordinary buildings in Asmara and is located on present day Mereb Street.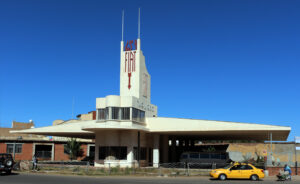 Designed by architect Pettazzi in 1938, the building, consisting of a central tower that incorporates the office and shop with the two wings on either side, was conceived as a simple gas station. From the beginning it took the name of Giovanni Tagliero, who was the director of the FIAT factory in Asmara and who lived in Eritrea until 1974.
With these bold stylistic references that celebrate modern transportation and travel, this building is one of Africa's finest examples of futurist architecture. Interestingly, it is similar in shape to an earlier design for a service station by American architect Frank Lloyd Wright and a new terminal in Birmingham Airport, UK designed by Norman & Dawbarn.
When the structure was built it was an extraordinary feat of engineering. With a thirty meter span overall, the cantilevered concrete wings support each other without any support, providing shade for those who work below. Since the municipality had reservations about the structural integrity of this building, the architect Giuseppe Pettazzi included wooden pillars to support the wings when he presented his final plans for the construction of the building. But at the inauguration Pettazzi forced the hesitant contractor (he threatened him with a revolver) to remove them, and to everyone's surprise the cantilevered wings remained in place. The central section of the building includes a metal spiral staircase leading to the upper floor which replicates the large windows of the ground floor.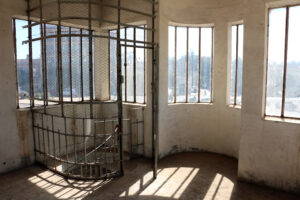 Despite the conflicts with Ethiopia of the last century, the building has not suffered any damage. In 2003 a restoration operation was carried out but being a national asset of historical value, the building was classified by the Eritrean authorities in category I; none of its parts can be modified in any way, although the interior has been modified over the years by walls that divide the environment into some small rooms. Today the service station is no longer used for the function for which it was built and is owned by Royal Dutch Shell which supplied it with fuel. In fact, the company logo is no longer present, a yellow shell surrounded by red, which until the end of the 1960s was present on the rounded front part of the ground floor, between the large windows.
The tall flagpoles, together with the wraparound windows that overlook the ground floor and first floor and the large advertising space, not to mention the incredible cantilevered wings, make this building the most famous of the Eritrean capital and has certainly contributed in decisive way to the appointment of Asmara as a UNESCO site.
Source: https://www.ilcittadinoonline.it/cultura-e-spettacoli/architettura-italiana-in-eritrea-fiat-tagliero/