Eritrea Ethiopia Peace – First Year Anniversary
Software Translation from Arabic
July 9, 2019: The first anniversary of the signing of the peace agreement between Eritrea and Ethiopia. The agreement ended 20 years of peremptory relations between the two countries after the outbreak of the war between 1998 and 2000.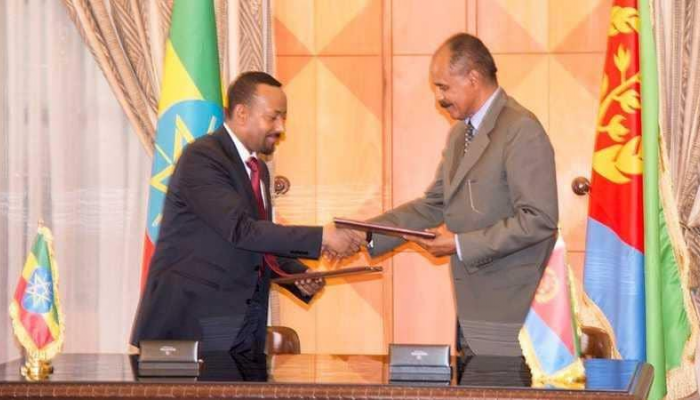 Eritrean President Isaias Afewerki and Ethiopian Prime Minister Abiy Ahmed Ali signed a peace agreement in the Eritrean capital Asmara on July 9, 2018, to announce the beginning of a new era of peace and friendship, opening a new page that ended years of conflict.
"After the two countries signed the historic peace agreement to end two decades of war and conflict, they are working seriously to implement the five pillars of the agreement to strengthen regional cooperation," Eritrean Information Minister Yemane Gebresmeskel said in a twitter on Tuesday.
On July 9 last year, Eritrea & Ethiopia signed a historic Peace Agreement bringing to an end decades of war/conflict. The two countries continue to work earnestly for full implementation of the five-pillars of the agreement & for greater regional cooperation ushered in its sequel pic.twitter.com/2WObyJwAiN

— Yemane G. Meskel (@hawelti) July 9, 2019
The declaration called for the "declaration of the end of war" between the two countries to "promote cooperation in the political, economic, social, cultural and security fields", "resume transport, trade, communications and diplomatic relations" and "implement the decision to demarcate borders, And regional cooperation ".
Ethiopian Prime Minister Abiy Ahmed arrived in the Eritrean capital of Asmara on July 8, 2018, on a historic visit that ended a two-decade break between the two countries.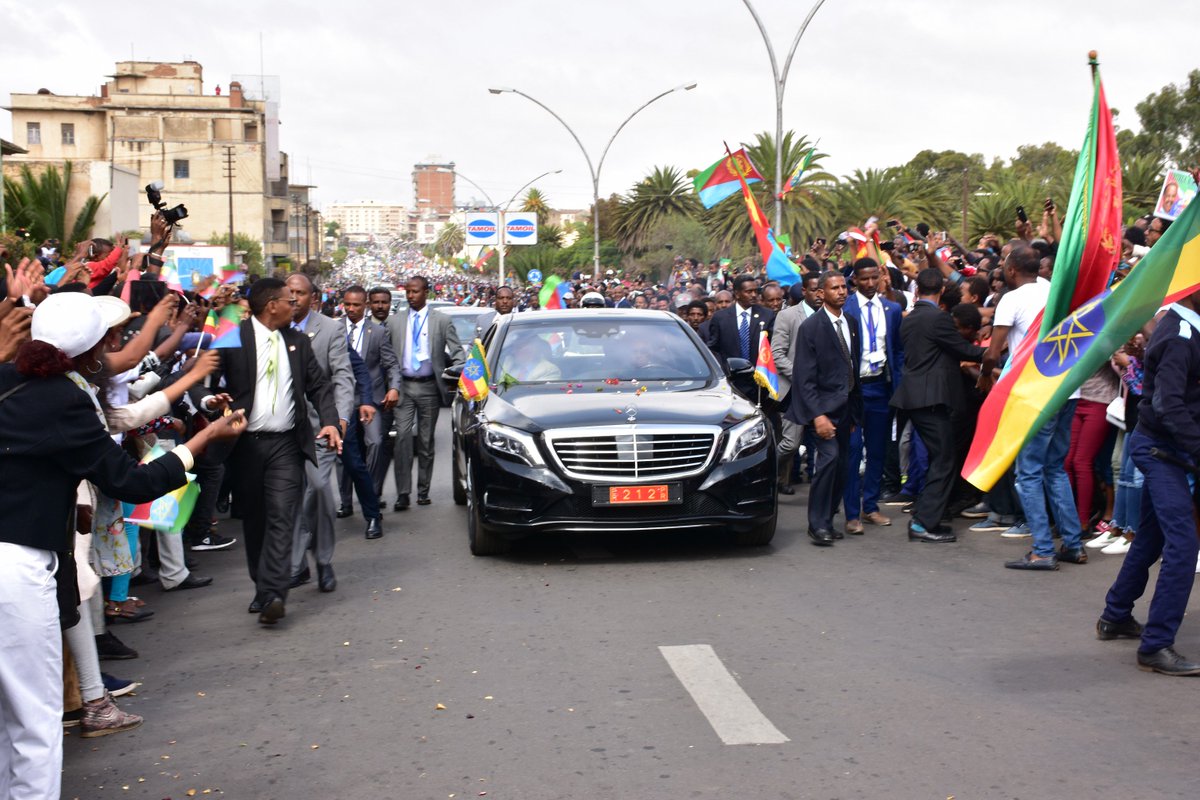 Thousands of Eritreans lined up in the streets and on the main roads to receive Abiy Ahmed, who managed to end the Ethiopian-Eritrean conflict after 20 years of rupture between the two peoples.
The historic transformation of the two countries since the signing of the peace agreement has contributed to the existence of a new map in the region in which the peace and integration of the countries of the Horn of Africa, which have long been divided by wars, disputes and external interventions.
Less than a week after the agreement was signed, the Eritrean President arrived at Addis Ababa International Airport on 14 July 2018 for an official visit, the first of its kind in two decades.
Afwerki was received by the Ethiopian Prime Minister and other senior officials. He was received by a large crowd at Addis Ababa airport from various Ethiopian groups and Muslim and Christian clerics.
The crowd lined the road leading to the airport, carrying banners bearing the pictures of the Eritrean president, the president and the Ethiopian ministers.
Source: https://al-ain.com/article/qatar-us-media-tamim-beg-trump-satisfaction