Asylum Seekers in Norway Must Manage with a $2400 Monthly Allowance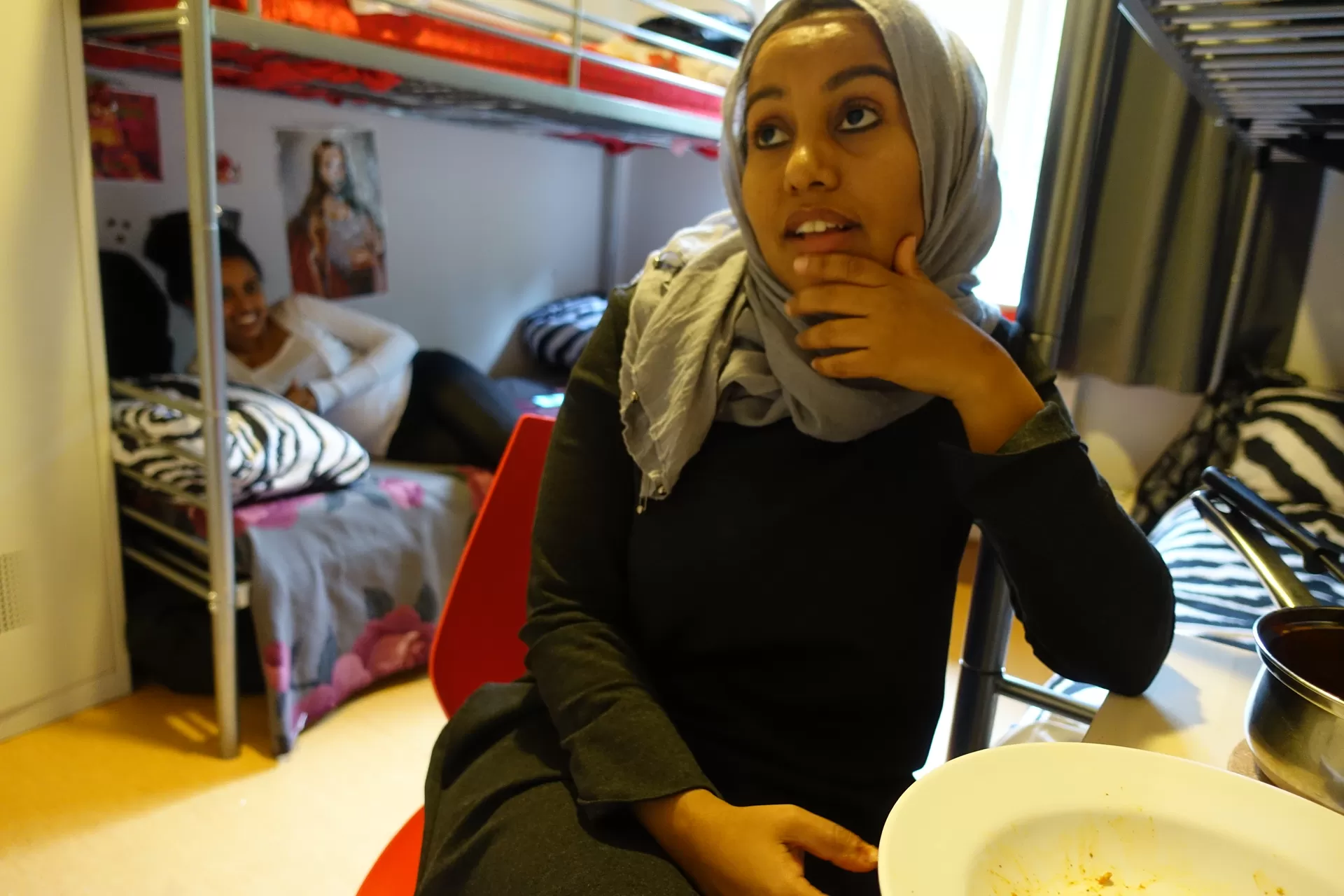 Asylum Seekers in Norway Must Manage with a $2400 Monthly Allowance
They receive $ 1202 on the bank card

twice

a month.  
Software Translation from Norwegian
www.frifagbevegelse.no | November 7, 2017
Leila Khaled, 26, from Eritrea has been an asylum seeker for one year and five months in Norway and lives at Ila integration reception in Oslo. She shares rooms with two other women from Eritrea, and they say they have become good at living cheaply in Norway. They receive $ 1202 on the bank card twice a month. It will be about 80 kroner the day.
– I do not make a budget, but prioritizes in this order: food, soap, prepaid card for mobile and if there is anything left over. But rarely keeps the money more than food, she says.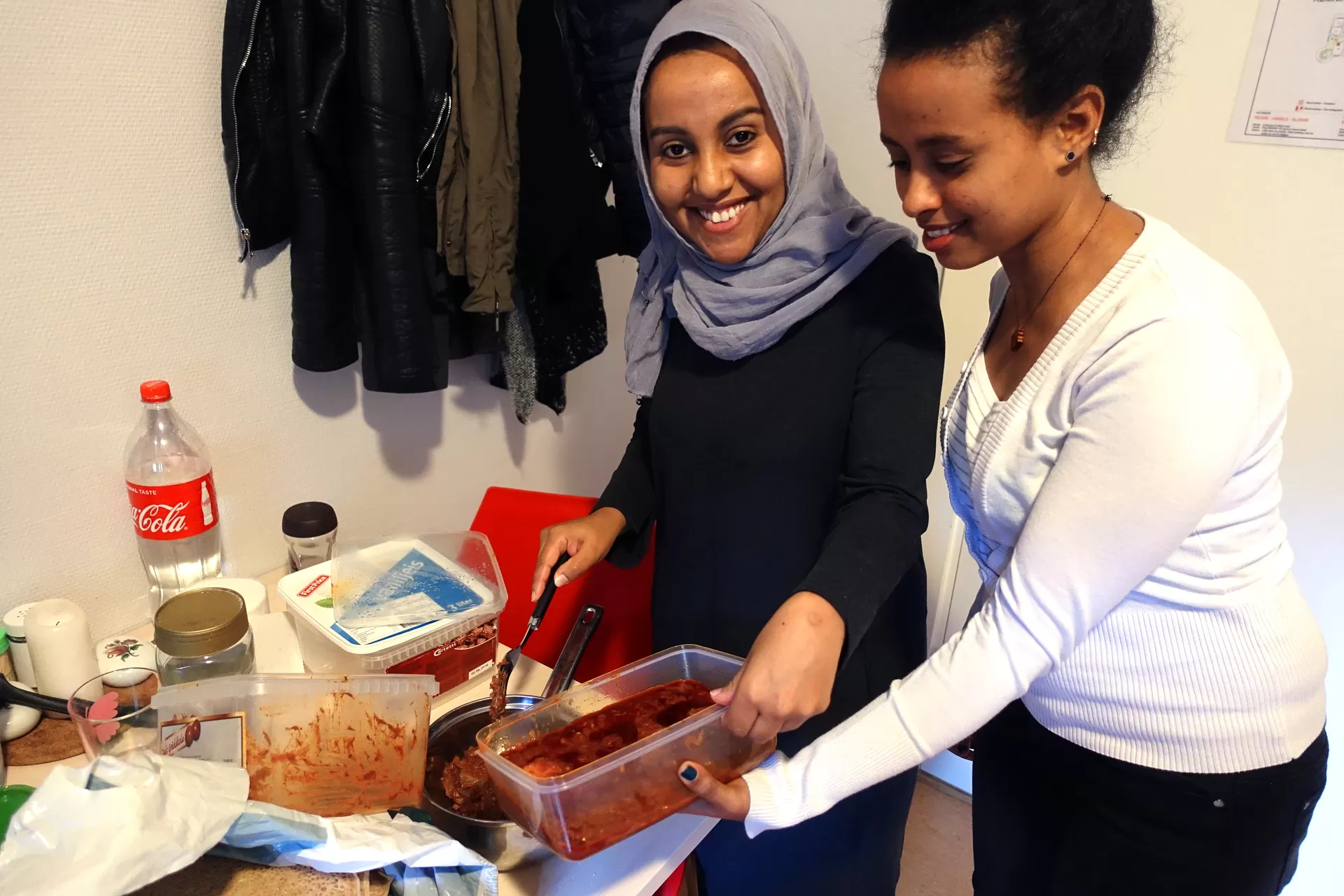 A DAY OF MEAT: Leila Khaled (TV) and Winta Andebrhna are from Eritrea and share rooms at Ila integration reception. Leila has got lamb meat from relatives in the city whom they share for dinner.
Low living rates for asylum seekers are justified by immigration policy considerations and that the money is for a temporary period.
"The problem is when asylum seekers stay for a long time before the case is clarified. A recent Fafo survey shows that the number of days spent on asylum reception was 618 days for people living in 2015 – for one and a half years. It is misleading to believe that the support for life expectancy is for a short period of time. I have always wondered how to make it happen, "says researcher Marie Louise Seeberg at the Norwegian Research Institute of Welfare, NOVA, Oslo University College and Akershus.
• Anzal (3) has a stay, but it does not have a mother
She is working on a professional article on the benefits of asylum seekers and has seen the size of the amounts for several years. The rates were lowered with the migration crisis in autumn 2015. After that, the rates have only been index-adjusted. For single adults, the amount paid is cut by a quarter since 2014, which means $ 856 less in the month.
"For single asylum seekers, the rates are also lower now than they were in 1989, when you got much more for each dollar," says Seeberg.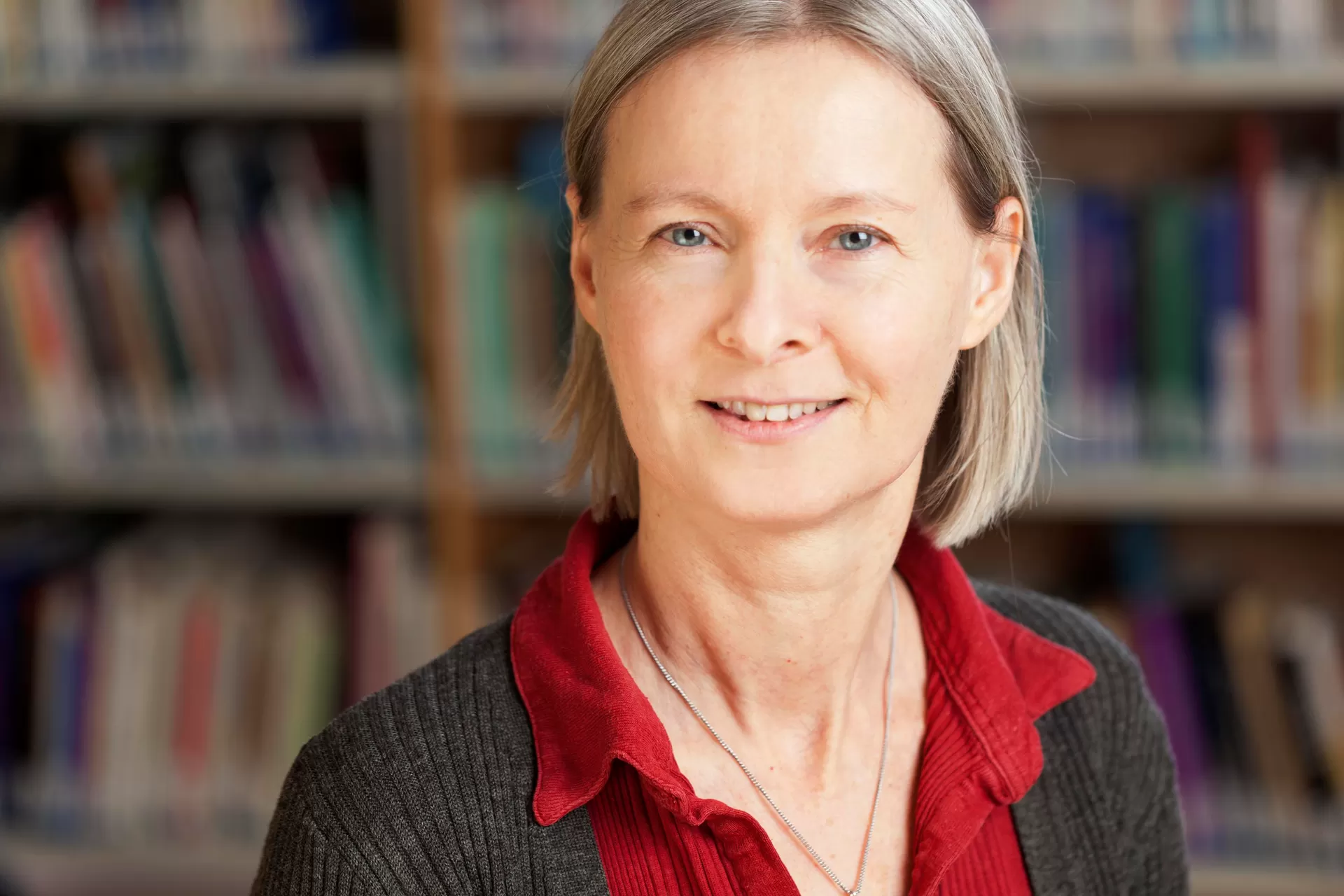 RESEARCH: Marie Louise Seeberg at the Norwegian Research Institute for Welfare Research NOVA, Oslo University College and Akershus, calls for a debate on the payment cards.
"We must always choose the cheapest of all. There are many items and choices in the stores, but I can not choose quality, I'm just looking at price. I love First Price! See here, coffee, soap, everything is First Price! Khaled exclaims, and the other two women in the room eagerly pick up the products while they smile.
Occasionally, charitable organizations deliver food at the reception. Open bakery gives them bread at closing time. Then split between the floors of the reception so that there is no conflict.
Are you hungry to bed?
– No. When we run out of money, we borrow from each other. And some get help from relatives living in Norway, says Khaled.
She takes the soap and goes out of the hallway to wash her hands before noon, then she carries the dispenser back. If it is standing by the sink, she knows it will disappear.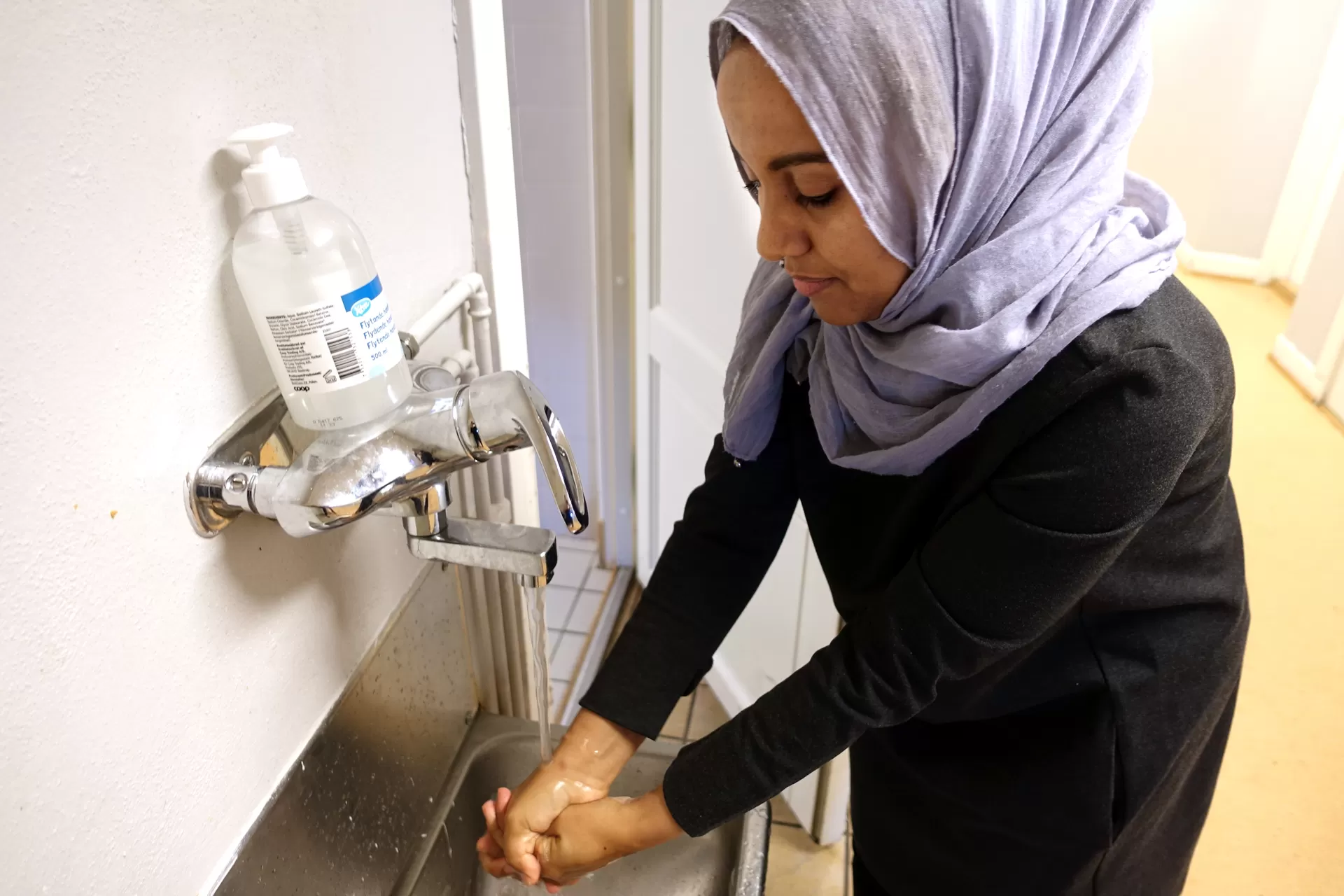 OWN SOUND: The soap must last for as long as possible, for the money she's allowed for food only.
Know people who give food
Khaled takes out a box of lamb meat in spicy sauce from the fridge. She has relatives who provide her with dinner. She even affords fish or meat once a month and usually eats vegetables for dinner. She stretches for a carrying bag of bread and presents. The Eritrean homemade bread is as thin as pancakes, and the pile lasts for five days.
Right then, it knocks on the door and Yared Russom from the male floor sticks their heads to them.
– I'm hungry! he says.
"The men can not cook, so we make bread for them," the women said.
Winta Andebrhna, Tsega Kidane and Semhar Hagos leave him, and Leila Khaled stays alone in the room. She sighs, lowers her shoulders and says it's demanding with wood sharing rooms.
"It's hard to read and concentrate, because people go in and out all the time. I know people in Oslo that I could have moved to. But I can not move out of the reception. Then I lose money!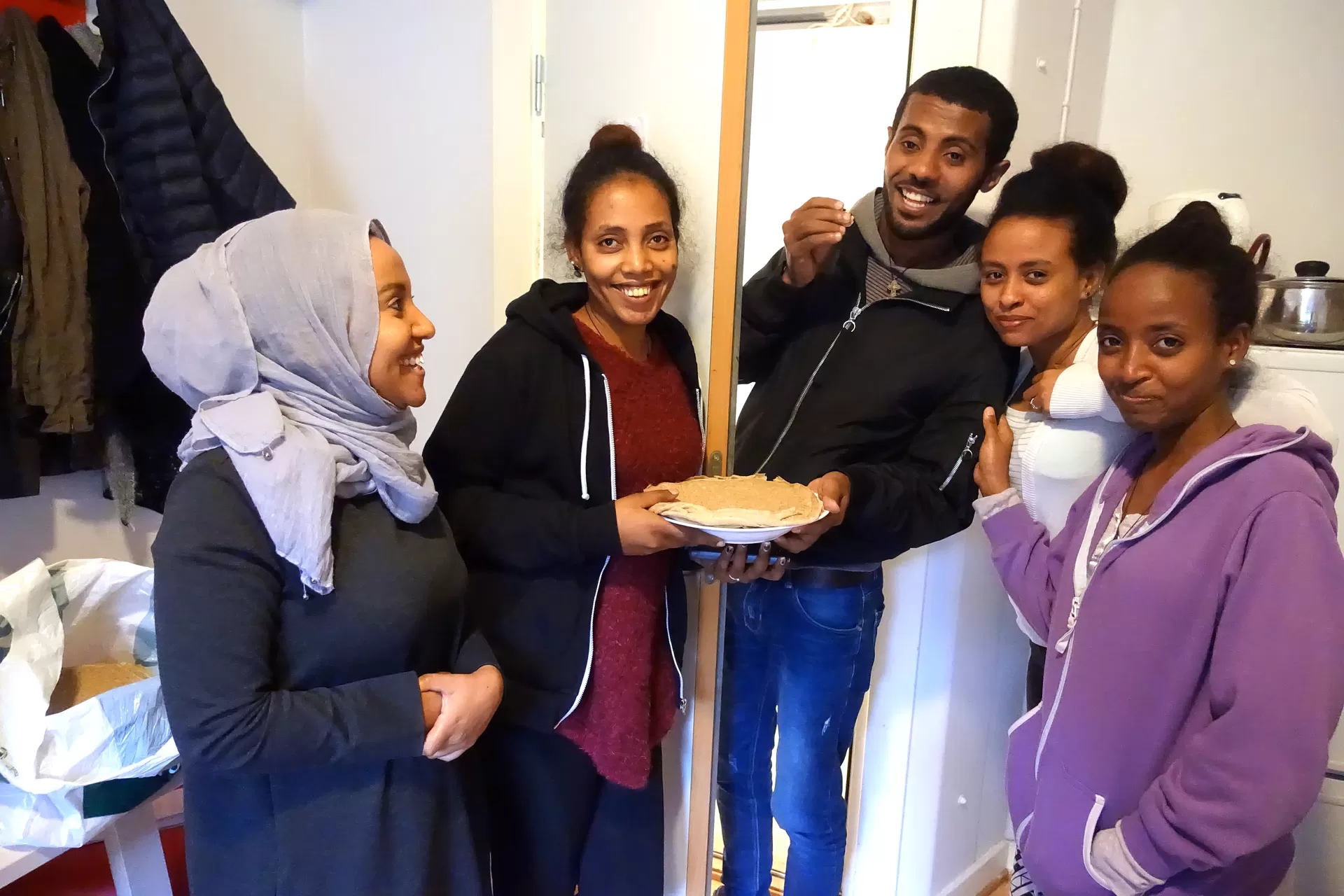 SOLD MENS: Yared Russom sticks his head to the women and says he's hungry. Leila Khaled (fv), Tsega Kidane, Winta Andebrhna and Semhar Hagos give him Eritrean bread.
– Let me work
– What's better for you to get better while you wait?
– Let me work, make money so I can manage myself. I hate being dependent on the authorities. In Eritrea I worked as a pharmacist, in a radio channel and in a magazine. I want to feel like part of society here, "says Khaled in fluent English.
The money the asylum seekers get is going to cover everything but the cost of living, and the main rule is: Children are slightly better than adults, and those with negative decisions get less than others. The rates vary according to status in the asylum case, type of reception, age and family constellation. In addition, there are schemes that allow for support for travel expenses, kindergarten and school equipment or funeral expenses. Some receptions also have a pot of money for activities, but the variation is great.
Jon Ole Martinsen, senior consultant at NOAS, Norwegian asylum seekers organization, acknowledges that the subsistence rates for asylum seekers have not been a major area of ​​focus for the organization. Earlier this year, they still took up the need to increase basic support and especially for families with children. There is no proposed change in this in the next year's state budget.
"We give rice to your own back by giving so little. If they feel unwanted and beyond, we are extending the integration process, he says.
For those who are placed on integration reception, the cards are most likely to be in the country. Khaled goes to Norwegian courses three days a week and participates in activities. She receives a bus card from the reception, and volunteers take care of things she does not have to pay for.
– It helps! In Eritrea I actually went to the cinema once a week, she says.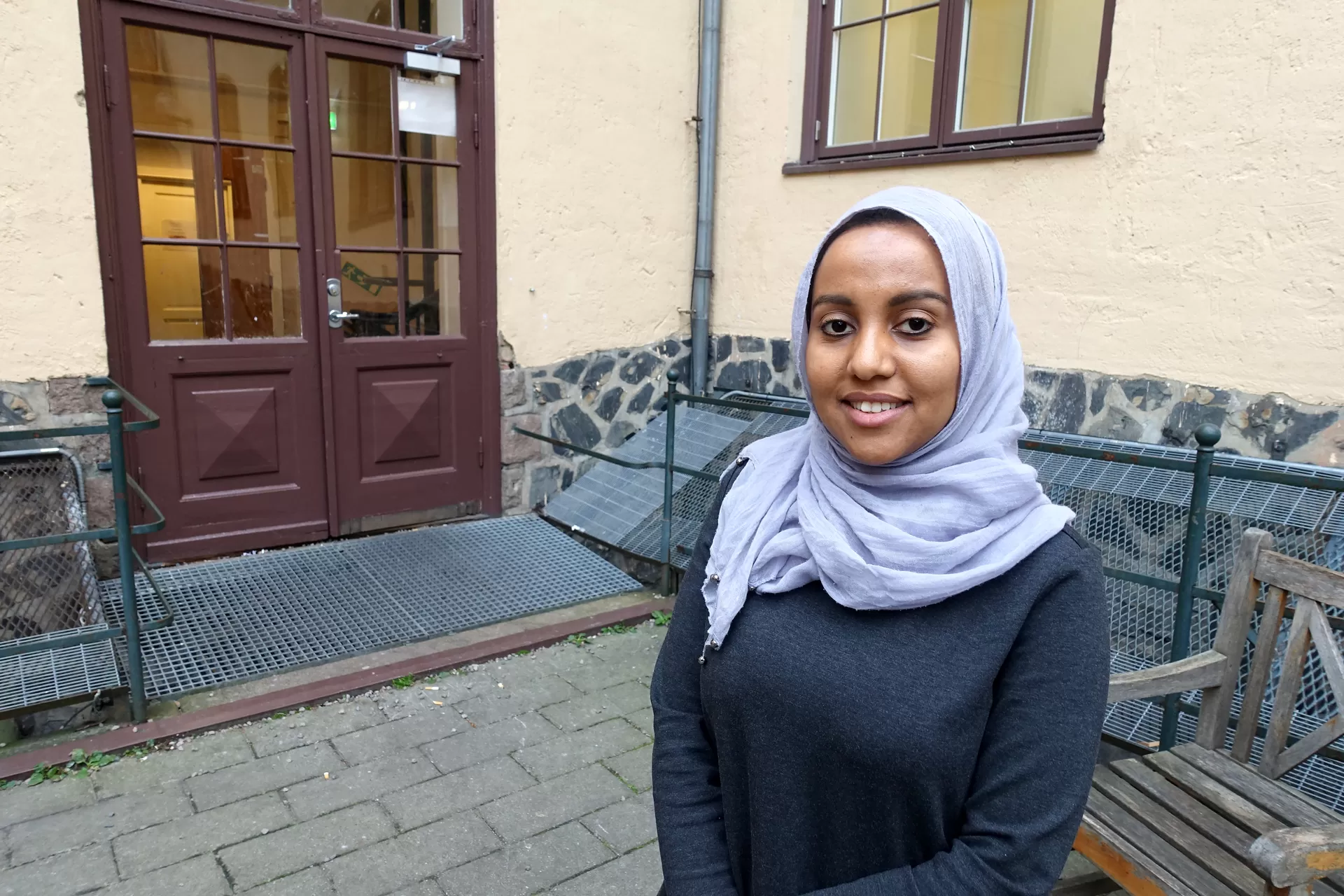 ILA RECOMMENDATIONS: Leila Khaled has been living in asylum reception for almost a year and a half.
Dentist and emer
gency situations
She tries to put some money aside, for what happens if she gets to a dentist?
"I'm afraid that such things will happen," she says.
Khaled has two younger sisters in Eritrea, and it is important for her to have contact with them, especially after her mother died last year. It costs fifty dollars to talk for 20 minutes. She does it twice a week. Eritrea does not have internet so she can not use Skype.
– Do you send money to them?
– No, but I know about others at the reception that minimizes what they themselves use to help family members. Someone here has a family on the run, who has been hijacked by smugglers and pressed for money. Someone saves money to be sure they can help in such situations. Some have also paid a lot of money to come to Norway and spend the money they receive each month to repay debt. There are very different stories here, says Khaled.
Source: https://frifagbevegelse.no/nyheter/asylsokere-ma-klare-seg-med-80-kroner-dagen-6.183.497391.40a4f948d4